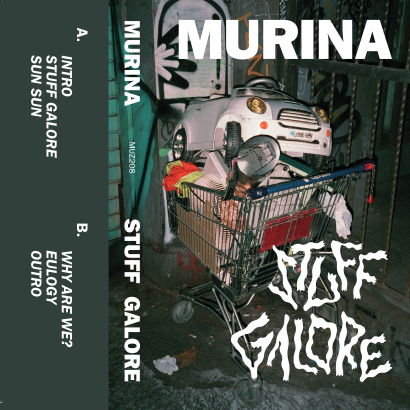 Stuff Galore
| Format | Price | Buy |
| --- | --- | --- |
| Murina - Stuff Galore - Jelly Green Cassette | £6.00 | |
Description
Murina - Stuff Galore
Taking their name from the Finnish word for "growl", Martina (bass, vocals) and Laura (drums) took up the mantle as it was "everything we wanted; easy to remember, pronounce, aggressive and a representation of our music."

Currently based in Barcelona, with ties to Italy and Finland, the pair met through Martina's advert for a drummer on Facebook; as fate would have it, not only did Laura answer but the two found a lot of common ground.

"We had a beer, we jammed, and discovered we had a similar taste in music, attitude and dreams" Martina explains. "It was a kind of astral connection."

Those musical similarities included some female-focused acts (L7, Babes In Toyland, Sonic Youth) and the explosion of collegiate rock from the '90s (yep… we mean grunge), but as Stuff Galore illustrates, it'd be far too lazy to cite them as riot grrrl band; especially given that the members were in stoner-grunge and "evil pop" acts prior to Murina.