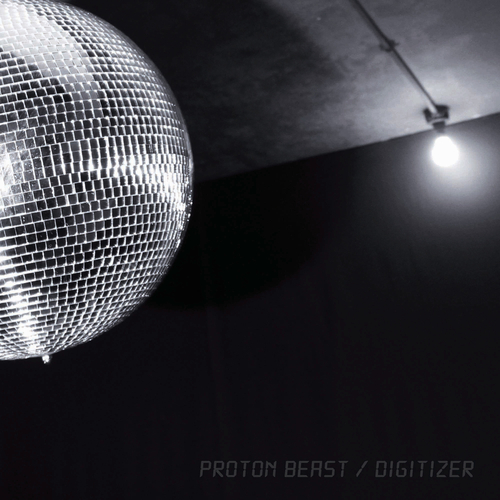 Digitizer
Available Formats
Tracks
Price
Buy
12" Vinyl Album
8 tracks

£

9.99

Download Album (

MP3

)
8 tracks

£

6.32

Download Album (

WAV

)
8 tracks

£

6.32

Download individual tracks
From £0.79
Description
Proton Beast - Digitizer
Like Mecha-King Ghidora before them, Proton Beast are a (now) three headed digital fiend ready to unleash their full length wrath upon the world. Digitizer is an alternative rock (nee: "disco doom") album that places them as contenders as New Zealand's "king of the monsters".

Having drawn into their ranks former D4 guitarist Vaughan Williams, Westley Holdsworth (guitar, vocals) and Stuart Harwood (drums) turned what was initially a four track EP into an eight track juggernaut demonstrating their evolution from 2012′s single "The Verse." In between painstaking time in the studio, the band have had the distinct honour to support the likes of Boris (Japan), DZ Deathrays (Australia) and Beastwars (New Zealand), impressing new audiences on a much larger scale.

Recorded at renowned New Zealand studio The Lab by Eddie Castelow (Dictaphone Blues), Digitizer moves away from the band's former post-hardcore sound, ushering in a sound the band describe as "disco doom" – a digital, vocoded melee of noise harbouring groove metal tendencies akin to White Zombie or an incredibly aggressive HEALTH. Apt then that Digitizer was mastered by Brad Boatright – responsible for working with genre-bending artists such as High On Fire, Sleep and Sunn O))).

Songs "Tetris", "Data" and the latest single "Vis Viva" have already showcased Holdsworth's running theme of technology throughout the album, and the shift of vocal performance adds to that theme; by using the vocoder and taking away any human element the vocals it becomes another sonic texture rather than a mere human telling a story.
Tracklisting
12" Vinyl Album (MUZ152LP)
Download Album (MUZ152LP)
Proton Beast

- Loading

Proton Beast

- Data

Proton Beast

- Tetris

Proton Beast

- Cimmerians

Proton Beast

- Unexpected Error

Proton Beast

- Grey Noise

Proton Beast

- Vis Viva

Proton Beast

- Digitizer